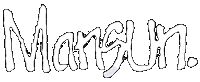 "We were trying to get a vicar and a nun to support us on tour and get their kits off, but none of the venues would have it." - Paul Draper
This site was the first ever dedicated to Mansun. It ceased on Monday 9 Feb 1998 and is here now purely as a record of what went on in the early Mansun days. Enjoy!
There's an alt.music.mansun newsgroup. Post something now!
Finally, I would like to thank all the people who have contributed to this page.